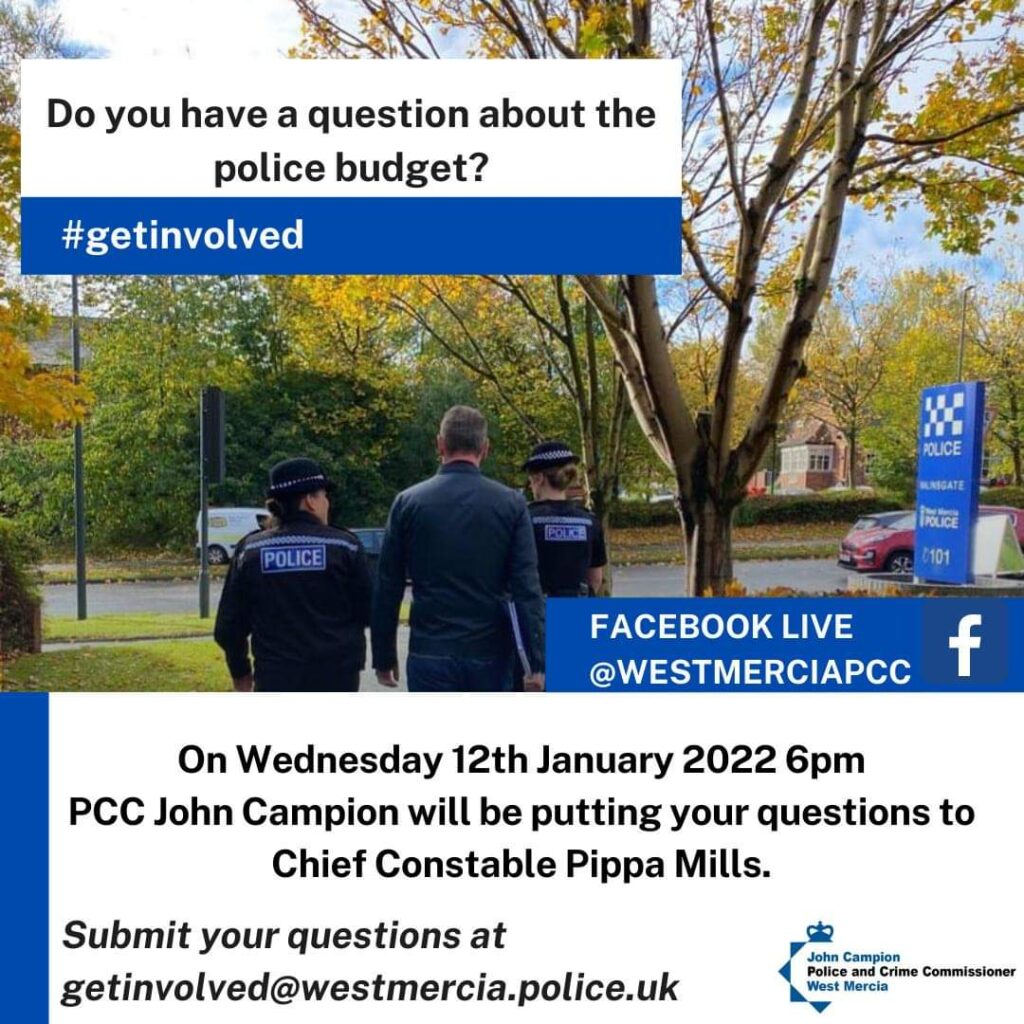 As the Police and Crime Commissioner John Campion, sets the budget for the next financial year, he wants to hear your questions, to put to Chief Constable Pippa Mills.
How would you like to see your money spent? How would you like to see resources prioritised? What would you do differently?
Live on Facebook: @WestMerciaPCC
Wednesday 12th January 2022. 6pm
How will it work?
You can get involved, and ask a question, in the following ways:
• Comment or send us a direct message in advance on Facebook, Instagram or Twitter: @WestMerciaPCC
• Email in advance [email protected]
• Join the conversation and ask a question during the live broadcast on Facebook.
To keep it fair for everyone to ask a question, the following will apply:
Questions must be focused on police budget
We'll endeavour to put as many of your questions as we can to the Chief Constable, on a first come, first served basis, but we may not get to them all.
Primarily the questions will be asked by the PCC to the Chief Constable, on behalf of the public, although some questions directly for the PCC will be welcomed.
Unless you ask to remain anonymous, your first name will be read out during the broadcast.
Questions will be limited to one per person.
Please keep your questions, concise- some wording may be abbreviated for the purpose of the live stream and/ or asked collectively when a number of people ask a similar questions.
If we are unable to answer your question during the livestream, and you would like a follow up from the police, we encourage you to contact your local policing team, whose details can be found on the West Mercia Police website.
We know you have busy lives so in case you miss the livestream watch it back afterwards on Facebook: @WestMerciaPCC or here on our website.
Our privacy statement sets out details as to how we manage data, and is published here.
Like to know more?