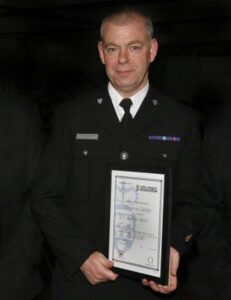 Police and Crime Commissioner John Campion has paid tribute to PC Richard Gray who was killed in the line of duty, in 2007.
The Shrewsbury based officer was trying to save two colleagues who has been held hostage when he was fatally shot. He left his wife and two children behind.
The Commissioner said "PC Gray paid the ultimate sacrifice, acting selflessly to save his fellow officers. As we reach the 10th anniversary, our thoughts are with his family, colleagues and friends. It's important, as ever that we recognise his bravery, and the bravery of those who serve our communities each and every day.
We must remember that there is a person behind the police badge, and is truly humbling to see officers and staff, putting others first, in order to keep West Mercia safe."
Issued: Monday 8th May 2017