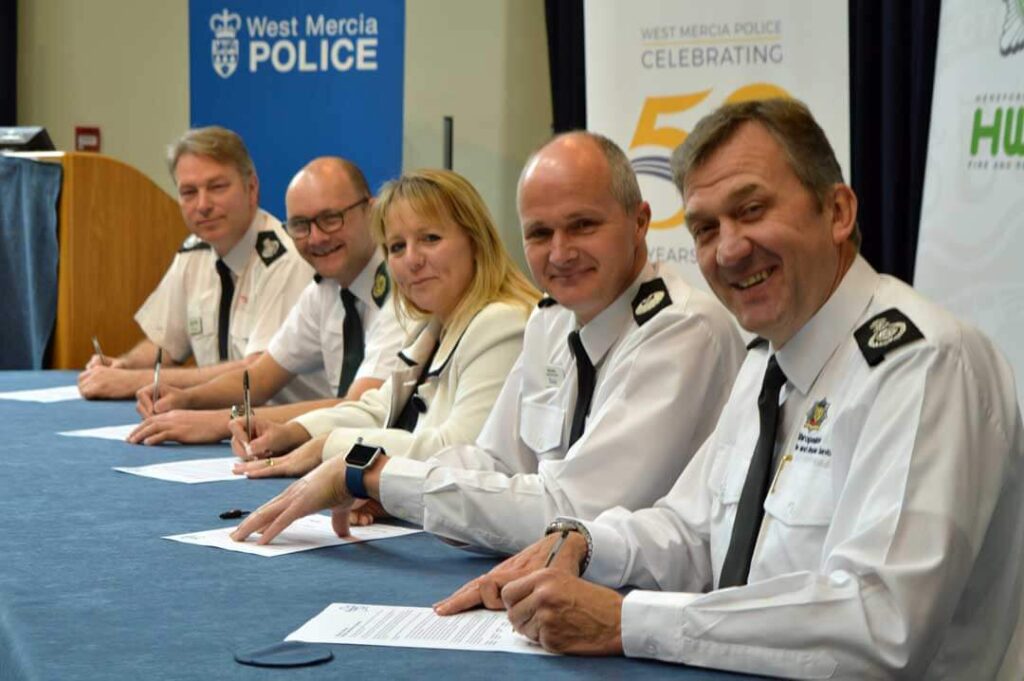 Senior representatives from Hereford & Worcester Fire and Rescue Service, Shropshire Fire & Rescue Service, West Midlands Ambulance Service and West Mercia Police came together today (21 September) to publically pledge their commitment to work towards being dementia friendly organisations.
On a national level, The National Fire Chiefs Council (NFCC), The National Police Chiefs Council (NPCC), and the Association of Ambulance Chief Executives (AACE) met in May to pledge their commitment and since then local emergency services across the UK have also followed suit.
Police and Crime Commissioner John Campion said: "This is yet another excellent example of emergency services working collaboratively to help the most vulnerable in our communities. I will continue to ensure West Mercia Police have the resources to provide the level of service that our communities expect, protecting people with dementia from harm."
HWFRS Chief Fire Officer Nathan Travis said: "HWFRS already works closely the Alzheimer's Society, Age UK, and local dementia groups to ensure that vulnerable people with dementia are protected against the risks of fire.
"I'm delighted that we can now come together with other local emergency services to collaboratively work towards further supporting people affected by dementia in a more cohesive manner."
Employers everywhere should do all they can to end mental health stigma and discrimination in the workplace says Shropshire's Chief Fire Officer, Rod Hammerton.
"The stigma and prejudice that has surrounded mental health for years has no place in today's workplace and employers must lead the fight to stamp it out. Addressing mental health issues in the same positive way we address physical health is a vital part of sustaining and supporting a healthy workforce," he said.
Assistant Chief Constable of West Mercia Police, Martin Evans said: "We are proud to stand here today with our blue-light colleagues to reaffirm our commitment to protecting people living with dementia from harm.
"This pledge boosts the work we already doing as part of the Dementia Action Alliance (DDA) and with the many members of our workforce that are Dementia Friends and Champions."
Chief Executive of West Midlands Ambulance Service, Anthony Marsh said: "As an organisation, our staff work on a daily basis with patients who live with conditions such as dementia and Alzheimer's disease. We pride ourselves on the care and compassion that we show to such patients but will always strive to do more to help them in their hour of need. Equally, as an organisation with over 5,000 staff, we see such conditions affecting our own staff, which is why we will also do everything possible to ensure we work with the individuals to support them in work. With these twin aims we will improve our services and care for people living with these conditions wherever they are in our communities."
To find out more about dementia and the emergency services commitment, please visit www.alzheimers.org.uk
Issued: Thursday 21st September 2017