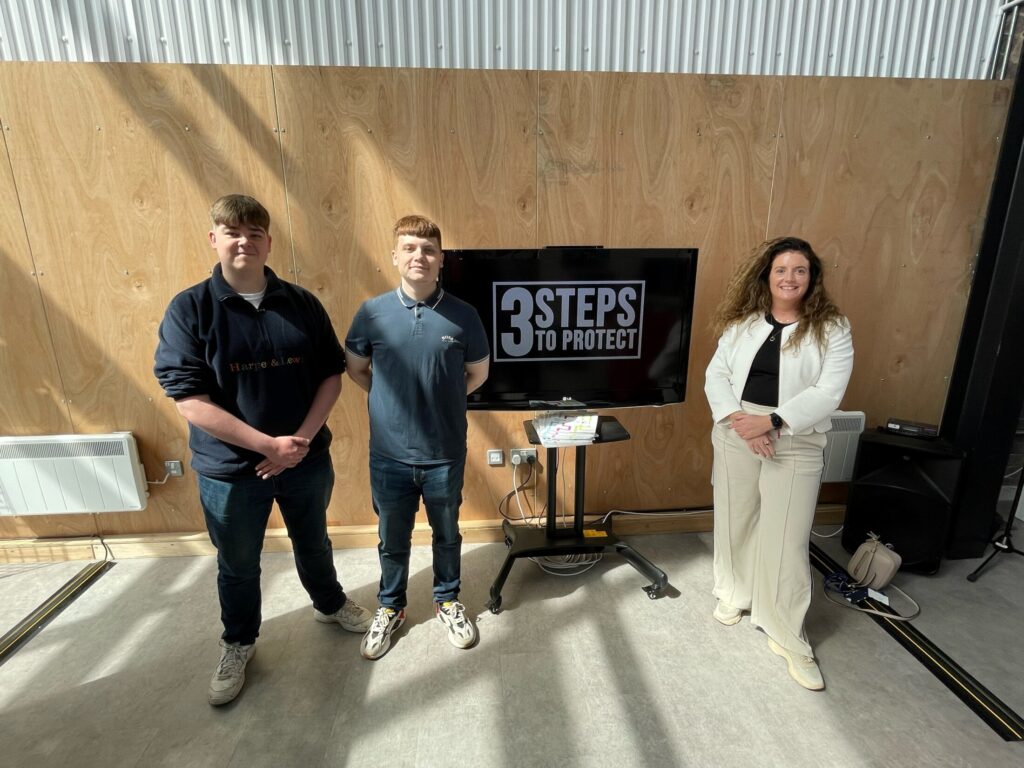 A film to educate young people about how they can help their loved ones stay safe online has been launched by two students from the University of Worcester.
In West Mercia, over half of all crime is fraud and cyber related with the elderly being the most vulnerable.
To combat this growing trend, two undergraduate Digital Media students from the University of Worcester have joined forces with West Mercia Police and the Police and Crime Commissioner John Campion.
As part of their media degree, Aaron Bell and Jacob Sanders, worked in partnership with West Mercia Police's Specialist Operations team to create a short film to educate and engage young people about the important role they can play to help keep their parents and grandparents safe online.
The 6-minute film, launched as part of the Digital Media Exhibition in Worcester, tells the stories of two victims of fraud and how following 3 simple steps would have made a real difference.
The '3 steps to protect' are:
Create a simple password using random words, avoiding the use of the same password on other accounts
Use 2 factor verification on platforms where this is enabled
Take time to stop and think before continuing the call or clicking a link
As the force and the PCC continue their efforts to raise awareness of a crime that is too often unseen, the film will be aired in schools and colleges across West Mercia as well as promoted on the social media channels of West Mercia Police and PCC.
The film can be viewed at Be cyber smart | West Mercia Police.
Student Jacob Sanders said: "It has been an honour to create a campaign that will help to protect the elderly in the current climate of cyber-crime. The collaboration between the Digital Media Course and West Mercia Police has allowed me to express myself as a creative, within this professional industry brief."
Fellow student Aaron Bell added: "Working on this Industry Brief as part of the Digital Media Course, in a professional environment, has equipped me with the videography and communication skills to help me to develop my future career. This learning experience has been invaluable."
Helen Holmes, Course Leader, BA Hons Digital Media, said: "Our Course has built an excellent collaborative relationship with West Mercia Police over the last five years. The experience of working on this project to raise awareness of cyber-crime to young people, has been invaluable to the students, both in terms of client communication and in further developing technical skills, in a live environment. We hope that our work will make a real difference in spreading this important message to the community."
Detective Chief Inspector Tony Garner said: "Fraud and online scams amount to about half of all crime. It's a huge problem that causes real harm to victims both financially and psychologically.
"Unlike a lot of other crimes, there are some very simple steps you can take to reduce your risk of becoming a victim to almost zero. That's why we are launching the 3StepsToProtect campaign with the support of Worcester University undergraduate media students.
"We have the potential to stop a huge amount of harm – all it takes is three simple steps. We encourage everyone to watch the film, and for those who have vulnerable family members and friends, help them put the three steps in place."
Police and Crime Commissioner John Campion said: "I understand the devastating damage cyber-crime and fraud continues to cause to victims across West Mercia.
"It's a sad fact that the most vulnerable in society are targeted so it's important we all come together to ensure our elderly friends and family are given the support they need to stay safe online."
If you believe you are a victim of cyber-crime or fraud, please contact Action Fraud by visiting www.actionfraud.police.uk or by calling 0300 123 2040.
If the crime is ongoing and you don't feel safe, please call the police on 999 or 101 for non-emergencies.
Picture shows from left to right: Helen Holmes, Course Leader, BA Hons Digital Media at University of Worcester, Jacob Sanders and Aaron Bell, Digital Media students, Detective Sergeant Will Horton, Detective Chief Inspector Tony Garner, West Mercia Police, Rachel Ammonds, Head of Digital Media Department at University of Worcester and Assistant Police and Crime Commissioner, Nicola Lowery.