If you're a resident in Shropshire, this is where you can find all the information that is relevant to the area you live in.
To find out where your nearest police station is and who your Safer Neighbourhood Team is, visit the West Mercia Police website.
Making a difference in Shropshire
Neighbourhood Watch
If you want to work with your neighbours in reducing crime and anti-social behaviour in your neighbourhood, find out where your local Neighbourhood Watch group is based.
County Sports Partnership
If you're looking to get involved in sports and activities in your area, the County Sports Partnership for Shropshire and Telford & Wrekin offers information to those who are looking to get active. Their vision is to enable sport and physical activity to be a part of everybody's everyday life in Shropshire and Telford & Wrekin. You can find out more about what they do, and what you can take part in.
Community Safety Partnership
The Safer Stronger Communities Partnership is the community safety partnership (CSP) in Shropshire. Crime, disorder and substance and alcohol misuse have a direct impact on both individuals and communities in Shropshire. The following partners work together to ensure these crimes don't affect the communities of Shropshire: Shropshire Council; Shropshire Clinical Commissioning Group; Shropshire Fire and Rescue Service; West Mercia Police, National Probation Service; Community Rehabilitation Company; and the Youth Offending Service.
You can view more information about the CSP.
Community Speed Watch
If you want to play an active role in reducing speeding within your community, contact the Safer Roads Partnership for West Mercia via email to find out how you can help. Find out more at the West Mercia Police website
Local policing
The local policing teams include local CID investigations, response teams and Safer Neighbourhood Teams. Your local Safer Neighbourhood Team is your first point of call to raise issues in your community.
The Shropshire Policing Area serves a population of over 306,000 people and a geographical area of 3,487 square kilometres. The area is made up of a number of market towns spread across a large rural expanse. Policing is currently led by Superintendent Mo Lansdale.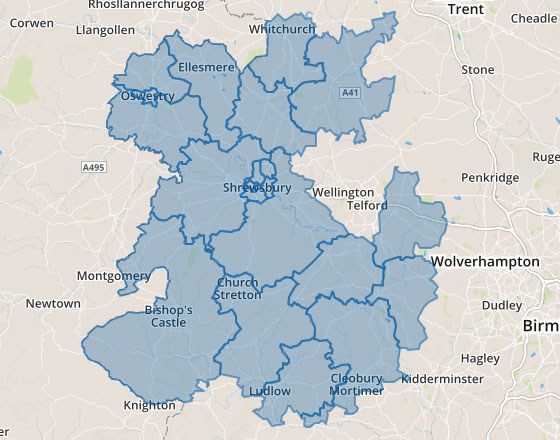 Find out more about what is happening in your area: Click here to enter your postcode and find out.
Grant Funded Projects