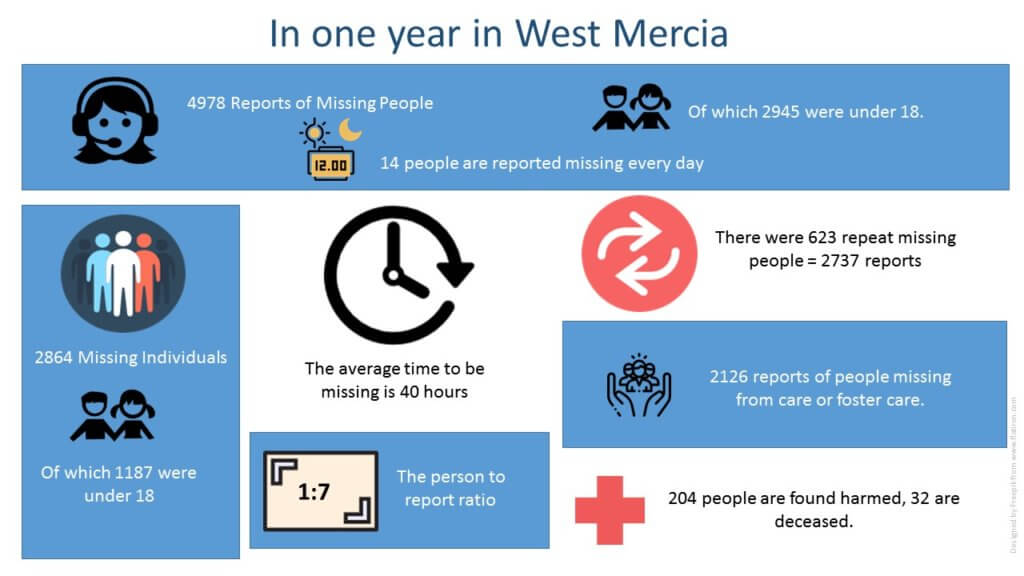 A proactive and innovative approach to support and protect missing people in West Mercia is backed by the Police and Crime Commissioner.
An average of 14 people go missing every day in West Mercia. Many of these disappear repeatedly, and are vulnerable because of their age, health, mental health or disappear from a place of care.
Through the use of technology West Mercia Police are using analysis to prevent repeat missing occurrences, protect those who are currently missing through task based investigation and work with partner agencies to provide provision to those at risk.
The force are also one of the first to team up with the Missing People Charity and the Samaritans to provide a text safe service to vulnerable people. A message followed up with a phone call can be sent quickly to a person identified at risk, signposting them to other services and putting them in touch with one of the Samaritans 21,000 listening volunteers- one in three people have engaged with this service, compared to one in twenty who were reached previously.
In Shropshire, where a disproportionate number of young people reside in care, the Commissioner has invested in a scheme with the Children's Society and Shropshire Council to ensuring all missing young people are fully assessed on their returning to ensure that they are safe, and to reduce the risk of them becoming missing again.
The Commissioner has also invested in West Mercia Search and Rescue whose volunteers provide extra support to the police, in finding those who are vulnerable.
Commissioner John Campion said "Identifying and tackling the root causes which cause people to go missing, is vitally important not only to keep vulnerable people safe, but to reduce the impact that missing people investigations have on police resources and demand. I welcome this multi-faceted approach, making the best use of technology, working across agencies and with innovative approaches to tackle this issue. The investments I have made are clear examples of how both West Mercia Police and I are committed to protecting the most vulnerable."
Issued: Thursday 21st February 2019