The next Police and Crime Commissioner (PCC) elections will take place across England and Wales in May 2024.
This page is intended to hold, or signpost to, information which may be of interest to PCC candidates, media outlets, other partner organisations and the wider community in advance of the election.
The election in West Mercia is formally administered by Shropshire Council, who will publish information both before and after the poll, including confirmed lists of declared candidates and the eventual election results. More information can be found here.
Information regarding PCC candidates can be found on the "Choose my PCC" website, which acts as a single, central site for information relating to candidates in each individual policing area. More information be found here.
The Office of the PCC in West Mercia will be following guidelines as set out by the Association of Policing and Crime Chief Executives (APACE) before the election to ensure transparency, fairness and impartiality.
The PCC role:
PCCs were created in 2012 as replacements for the previous Police Authorities. Amongst other functions, the PCC role includes:
Ensuring public views are heard within policing
Holding the Chief Constable to account
Ensuring appropriate services are in place for victims of crime
Setting the local police budget and determining levels of council tax
More information on the role of the PCC is available from the following:
Gov.uk – Police and Crime Commissioners
Association of PCCs – Role of the PCC
The Association of PCCs has also published a guide to the role for prospective PCC candidates, which is available here.
The Office of the PCC in West Mercia:
Key information relating to the work of the Office of the PCC in West Mercia is routinely published on this website and can be found in the various sections set out above. Direct links to a selection of key publications and areas of work are also below:
Current police and crime plan (2021-2025)
Budget and medium term financial plan
Holding to account – minutes from previous meetings
West Mercia Police – quarterly performance reports
HMICFRS reports and PCC responses
Information on the PCC's Team and Office Structure
Public confidence and perceptions survey
Freedom of Information disclosure logs
PCC Funding and Grants – Current Projects
Information from external sources:
Office for National Statistics – crime in England & Wales
West Mercia Police and Crime Panel – previous/ upcoming meetings and papers
West Mercia Police (including statistics on use of force)
National Police Chiefs Council
Association of Police and Crime Commissioners
Police Superintendents' Association
Police and Crime Commissioners Treasurers' Society
HM Courts and Tribunals Service
Independent Custody Visitor Association (Candidate Briefing)
About West Mercia Police
West Mercia is the fourth largest geographic police area in England and Wales
Our geography
Our communities cover three counties, Herefordshire, Shropshire (which includes Telford and Wrekin) and Worcestershire with more that 1.2 million people living in the areas the force serves.
Whilst many of our communities are rural, the urban areas the force serves includes Hereford, Kidderminster, Redditch, Shrewsbury, Telford and Worcester.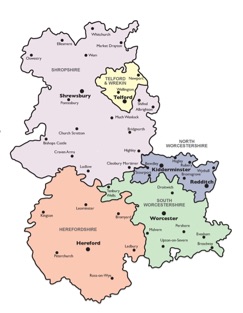 Our history
The force was formed on 1st October 1967, by the merger of four forces; Worcestershire Constabulary, Worcester City Police, Herefordshire Constabulary and Shropshire Constabulary and in May 2009 the name was changed from West Mercia Constabulary to West Mercia Police.
Find out more about West Mercia Police by visiting the West Mercia Police website
Find out more about West Mercia's chief officers and their portfolios
Find out about West Mercia Police's Vision and Values
Find out about West Mercia Police's Service and Leadership Ethos